Cloth Napkins and Serviettes
| | |
| --- | --- |
| Known by the majority of the world as a Napkin (Serviette for those from Australia, Canada, South Africa and the United Kingdom), it is seen to be a bit of a dining luxury. On the whole, the napkin will only make an appearance when eating at a restaurant or entertaining guests.  When the latter of these two occasions arises and you find your self setting the table for your guests are you equipped with enough napkin folding techniques to really wow them?Traditionally, Napkins find their place folded into a simple square, situated next to the outermost fork. Thanks to Napkin origami, the humble napkin has made its way to pride of place in the dinner table make up. Often used for a wow factor, cloth napkins folded in to intricate shapes are placed on empty plates for guests to marvel at upon arrival. | |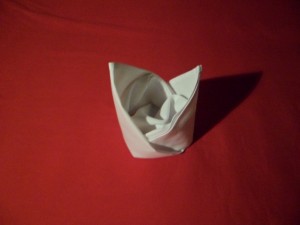 Known by the majority of the world as a Napkin (Serviette for those from Australia, Canada, South Africa and the United Kingdom), it is seen to be a bit of a dining luxury. On the whole, the napkin will only make an appearance when eating at a restaurant or entertaining guests.  When the latter of these two occasions arises and you find your self setting the table for your guests are you equipped with enough napkin folding techniques to really wow them?
Traditionally, Napkins found their place with very simple folds, situated next to the outermost fork.  Thanks to Napkin origami, the humble napkin has made its way to pride of place in the dinner table make up. Often used for a wow factor, cloth napkins folded in to intricate shapes are placed on empty plates for guests to marvel at upon arrival.
How To Clean Napkins
The cloth napkin doesn't often get used in usual domestic environments. But when it does its often exposed to nightmare stains; lipstick, curry, wine etc.  This is all part of its duty and should not be taken out of action over a few minor battle scares. Removing stains off a Napkin isn't as difficult as it may seem. Heres a few easy tip on cleaning napkins;
Starching Napkins not only helps make your napkin origami look better it also helps repel stains.
To remove lipstick from a napkin use Glycerin
To remove wine stains form a napkin make sure you soak it as soon as possible then apply generous amounts of salt to both sides. And remember white wine removes red wine.
Make sure you clean your napkins as soon possible. Leaving them will only allow the stain to stick.  If you can't put them in the wash straight away, add washing detergent to a mug of warm water and leave over night.
Everyday stain removers are a great help when it comes to keeping your napkins clean.
Always wash on a hot wash (material permitted – Check the label) with a detergent that's enzyme-boosted and powdered oxygen bleach.
When it comes to drying your napkins if possible leave them to dry out side allowing the sun to naturally bleach the stains out.
If all else fails and you simply can't get your napkins back to white leave them to soak in a strong bleach solution until you have your napkins back to white.
[embedplusvideo height="437″ width="728″ standard="http://www.youtube.com/v/427zvKIU_R0?fs=1″ vars="ytid=427zvKIU_R0&width=728&height=437&start=&stop=&rs=w&hd=0&autoplay=0&react=1&chapters=&notes=" id="ep8982″ /]
History Of The Napkin
The napkin serves one purpose and that is to clean. Most people will sit with there napkin placed upon their lap to prevent spillage. Throughout the meal the napkin is use for wiping of the hands and mouth.  The word originally comes from the French nappe meaning a cloth for covering a table.  However the word was lent to the Middle English language where the diminutives suffix –kin was added, creating the word Napkin.  The first of a cloth napkin dates all the way back to 1385 in ancient Rome. Although, it is said that the ancient Greeks would use bread for the same purpose.